Sandwich Type Power Take Off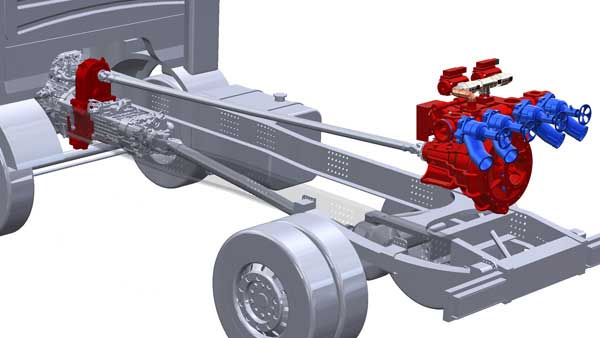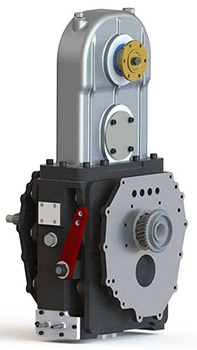 Sandwich Type Power Take Off
SANDWICH PTO is used in cases where Transmission PTO's are not capable of providing the required power for the superstructure. SANDWICH PTO is mounted between engine and transmission and because it takes power from engine directly it has many advantages. Sandwich PTO is more durable thanks to its static location and additionally, Sandwich PTO does not effect aerodynamic of trucks when it compares with Split Shaft PTO. These units are usually used on Road Maintenance Vehicles and Fire Fighting Vehicles. Especially for Fire Fighting Truck Pump&Roll Feature is very useful and it is possible with Kozmaksan Sandwich Power Take OFFs.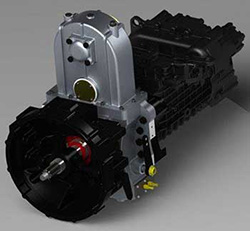 USAGE OF SANDWICH POWER TAKE OFFs

Sandwich units get drive from the engine and transfer the drive to the equipment with increased revolution value. Depends on pump features internal gear ratios can be redesigned. The most important thing is the installation of Sandwich PTO for use the product efficiently. If the installation is not done properly, heating problem can be seen. Even installation is done greatly, in some application superstructure works over and over hours and this is caused heating problems. For solution, Kozmaksan Sandwich PTOs built on cooling system with heat exchanger. SANDWICH PTO should be used with 75W90 EP or equivalent oil type. Engagement and Disengagement is made over a mechanical stick which is located on the side of the unit. It depends on request control type can be pneumatic also. During Engaged/Disengaged process, the clutch pedal should be pressed. Pump&Roll featured Sandwich PTOs should be manufactured compatible with main transmission body. Although it is optional Sandwich PTOs can be controlled by sensors. With Engage & Disengage sensor operator can easily observe if superstructure is on or off.

The Sandwich PTOs are shipped as unoiled! Oil should be filled into the Sandwich PTO by using the oil filling mechanism, before running the vehicle. The oil filling operation should be made on the ground. The required oil level is the top level shown on the indicator. The oil should be totally clean. You are required to use only the recommended oil. In case of using any oil other than the recommended oil, the vehicle is out of warranty coverage.
Maintenance should be made before and after long trips. Maintenance should be made at ground level and when the vehicle is not running. In case the oil level is less than required, oil should be added. Make sure that old oil is totally drained and make sure that you are using recommended (correct) oil. In case of mixing old and new oil; This situation is going to cause damage to components of gearbox ( shaft, gear, bearing etc.)
First oil changing should be made following 250 hours after the Sandwich PTO has started to run. Oil changing should be made when the oil is cold. Draining could be made by removing the drain plug. In order to accelerate the process, it is recommended to remove the filling plug also. Before restarting, the drain plug is required to be cleaned. Subsequent oil replacements should be made once in every 1000 hours or once a year.
Check for oil leaks periodically. Check for any oil leaks in the area where the vehicle is operated and the surroundings. In case of detecting any oil leaks, prevent oil leaking, add oil if necessary, contact with manufacturer firm KOZANOĞLU KOZMAKSAN
Other Data: