Split Shaft Power Take Off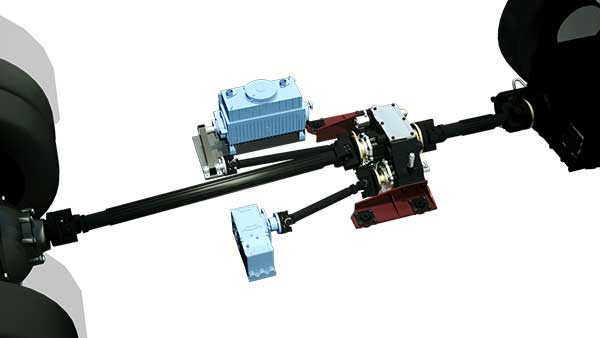 SPLIT SHAFT POWER TAKE OFF
SPLIT SHAFT PTO
is used in cases where transmission PTOs are not capable of providing the required power for the superstructure. The Power Shift PTO is located on the truck chassis between the main transmission and differential. These gearboxes are mainly used for Fire Fighting Trucks, Cleaning Combination Trucks, Sweeping Trucks and Road Maintenance Trucks.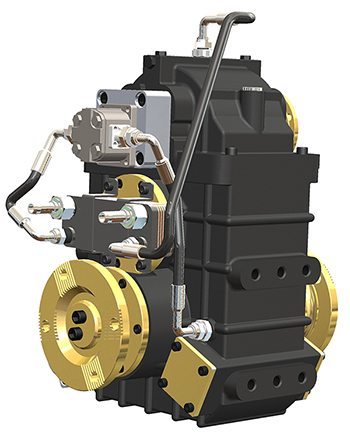 SOME DETAILS FOR SPLIT SHAFT POWER TAKE OFF

Depending on a given truck, Split Shaft PTOs can hugely vary. Split Shaft Units can be vertical or horizontal type. If it is vertical, it can have 3 axes such as
UARA.2002
or 4 axes such as
UARA.2006
or 5 axes such as UARA.2005. When gearbox length increases, a lubrication system needs to be built on the gearbox. If the installation is not done properly, heating problem can occur. Even when installation is done perfectly, vehicle superstructure works for extended hours in some applications, causing excessive heat. A cooling system should be installed on the gearbox to solve the problem.
Although it is optional, Split Shaft Units can be controlled by sensors. With Engage & Disengage sensor, the operator can easily see if the superstructure is activated, and can also check the revolution value through rpm counter sensor. Before selecting Split Shaft PTO, Truck CVW should be checked. Trucks GVW can be from 3 tons to over 30 tons. According to radial force, every truck needs different solutions. Trucks are categorized as 4 different types: Extra Heavy Duty Trucks, Heavy Duty Trucks, Medium Duty Trucks, Light Duty Trucks. Every truck needs different solutions and different Split Shat Units.
PUMP & ROLL FEATURE: This means you can run your superstructure while you are driving your truck. This is especially intended for Fire Fighting Truck and Water Truck. During drive, main gear should not be changed. Kozmaksan Light Duty 400 series (UARA.405 UARA.400 UARA.404 UARA.401), Medium Duty 800 series ( UARA.801 UARA.806 UARA.805) , Heavy Duty 2000 series (UARA.2002 UARA2006 UARA.2005) units all have Pump & Roll Feature. For more information please go to "Technical Support".
HOT SHIFT FEATURE: This is especially a very much demanded feature for Vacuum Cleaning Trucks, Sewer Cleaning Combination Trucks and Water Jetting Trucks. With clutch mechanism, it is no more necessary to press clutch pedal during engage/disengage process. Kozmaksan Hot Shift Featured products are UARA.3005, UARA.2400, UARA.450 and UARA.240.
HYDROSTATIC DRIVE: Typical Pump & Roll featured Kozmaksan Split Shaft Units transfer power to differential and the equipment during the drive, which means the power is divided. The purpose of Hydrostatic Drive technology is to transfer movement to the differential even when the split shaft unit in full operation with the superstructure. On the other hand, Hydrostatic Drive provides low speed to the wheels while superstructures need to be run with high-speed values. Especially Sweeping Trucks, Salt Spreaders, multi-purpose trucks for road maintenance and Airport Fire-Fighting Trucks can be indicated as good examples for the application of this system. With hydrostatic gearboxes, you do not need to use a second engine with this system. Thanks to Hydrostatic Drive you can build your truck with lower costs and you will economize on fuel expenses. Kozmaksan Hydrostatic Gearboxes are UARA.1100, UARA.2501, UARA.865 and UARA.860.
USAGE OF SPLIT SHAFT POWER TAKE OFF
Split Shaft Units are shipped without oil! Oil must be added into the Split Shaft PTO through oil filling mechanism before running the vehicle. The oil filling operation should be made on the ground. The required oil level is the top level shown on the indicator. The oil should be totally clean. You are required to use only the recommended oil (SAE 80 W 90 EP or equivalent). In case of using any oil other than the recommended, the unit will not be under warranty coverage. Maintenance should be done before and after long operation time. Maintenance should be done at ground level and when the vehicle is not running. If the oil drops below required level, oil should be added. Make sure to totally drain the old oil and use recommended (correct) oil. Mixing old and new oil would cause damage to gearbox components (shaft, gear, bearing etc.).
The first oil change should be done after 250 hours from the commissioning. Oil change should be done when the oil is cold. Draining could be made by removing the drain plug. In order to accelerate the process, it is recommended to remove the filling plug also. Before restarting, the drain plug needs to be cleaned. Subsequent oil change should be made every 1000 hours or once a year.
Check for oil leakage periodically. Check for any oil leakage in vehicle operation site and the surroundings. If you detect any oil leakage, prevent it and add oil. If necessary, contact manufacturer firm KOZANOĞLU KOZMAKSAN.
Other Data: