What does PTO mean?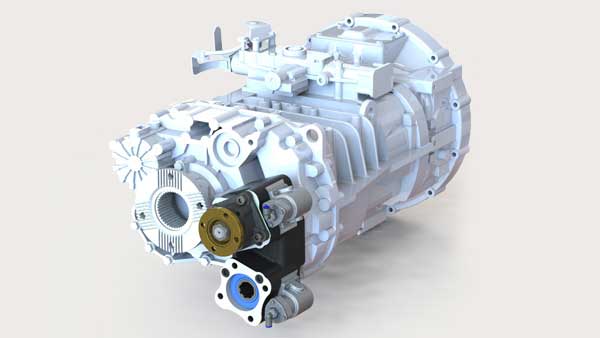 Transmission Power Take Off
Truck transmissions have one or more locations which allow for a PTO to be mounted.
The PTO must be purchased separately and care is required to match the physical interface of the transmission with a compatible PTO. PTO is used in cases where superstructures need to be run. PTO is mounted on the main transmission of a truck. Mounting can be rear, left or right side or even bottom of the transmission. PTO Units are used in Dump Trucks and Ram Vehicles, Hook Loaders and on Platform Vehicles, Fuel Tankers. Some heavy duty PTO units used in Fire Fighting Trucks, Cleaning Combination Trucks, and Concrete Pumping Trucks. PTO units can have single or double output. It depends on the Hydraulic Pump housing, Outputs can be ISO or UNI mounting type. The Power Take Off is engaged/disengaged using the main transmission clutch and a remote control mechanism which operates on the PTO itself. Typically an air valve is used to engage the PTO, but a mechanical linkage, electric or hydraulic mechanism are also options.


General rules for PTO installation
For correct installation of PTOs and all related accessories, it is very important to follow these general rules;
Always check the PTO instruction manual and any further specific instruction sheets included in the PTO package. Always operate taking into account the gearbox operating manual
Use the appropriate tools and instruments such as torque wrenches, gauges and thickness gauges

Use only gaskets supplied by the Manufacturer. Use paste gasket only if recommended.

Mastic is forbidden if used together with paper gaskets.

It is advisable to use medium thread locking fluid for locking bolts and studs

Perform all Installation operations with the vehicle standing on a level surface, otherwise, oil levels cannot be checked.

Operate with engine and gearbox at ambient temperature.

Check that the PTO is equipped with the correct mounting kit.

Check that clutch works properly, otherwise adjust it. The transmission should stop rotating within 5 to 6 seconds.

Check that the gearbox has no unusual noises or vibrations

Use of the PTO
IMPORTANT: when engaging and disengaging the PTO, always press the clutch pedal!
Working temperature and load conditions;
The temperature depends on the way the PTO is used and it is recommended to keep it between the following values;
Short duration (less than 15 minutes) max.120 °C
Long duration (more than 15 minutes) max 100 °C


The PTO temperature is affected by various factors; it is possible to reduce overheating by:
Changing the oil more often in case of heavy duty system

When the PTO is side mounted, ensuring that the gear backlash is accurately checked
When the PTO is rear mounted, considering to provide the PTO with a supplementary lubrication kit.






Other Data: